Did a self guided hiking trip in Slovenia, my first trip abroad since the pandemic began. Slovenia is located in central Europe and is know for its beautiful mountainous and forested terrain, which covers 20,271 square kilometers (7,827 sq mi). It has a population of about 2.1 million people.
Transited by ride share through Venice, Italy on my way to Slovenia which is a very common route.
My trip was booked through Helia. Great service, provided recommendations/maps for hikes, the accomodations they booked were excellent, someone was always on call if there were any issues, and they provided a luggage forwarding service so that while I hiked, my additional luggage would follow me.
Started out in the capital city of Ljubljana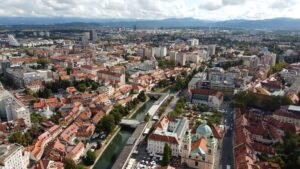 Then visited some of the main goto places for hiking including:
About 125km hiked over 10 days with a decent amount of elevation change.
People were very friendly, food was good, english was spoken everywhere, and the weather was great.
As with most of the world, the effects of COVID-19 were readily present and there were the expected protocols in place including masks, social distancing, required vaccination for international travelers etc. Re-entering the USA required testing negative no more than three days prior to return trip travel from your departure city, which in my case was Venice. Marco Polo Airport (VCE) had rapid testing facilities so it was very simple to get a quick antigenic and have the results after 20 minutes. As a result of the pandemic things were definitely less crowded in hotels, restaurants, and on the hiking trails.
Excellent trip, beautiful country, would not hesitate to return to the region again and again.
Here is a link to some trip photos